Extreme Events in Finance: the Wiley handbook is out!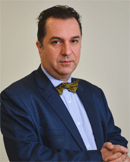 Please to announce the latest Wiley research publication Extreme Events in Finance: a handbook of extreme value theory and its applications in the handbooks series Financial engineering and econometrics. Both versions – hard-copy and electronic – are now out!
This book is a collective work: it gathers 25 contributions written by more than 40 contributors from all over the world. It is diverse in terms of contributors as it includes academics and practitioners from banks, fund management firms, insurance companies and central banks.
I would like to thank all the contributors to this handbook:
François Longin (ESSEC Business School)
Editor